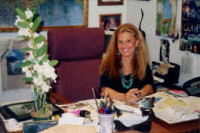 That's me..The Working Girl!
Aloha Mainland friends…
This is our opportunity to make contact so that I may share with you over 30 years of experience here on Kauai's North Shore……
Here is "mother and daughter" high atop the back side of the famed Napali Coast.
Kauai is an ideal environment to raise children…ask any Kauai-child and they'll tell you how special they feel growing up amidst rainbows and waterfalls.
You too can bask in the richness of clean air and clear water with your loved ones…why not give them the very best?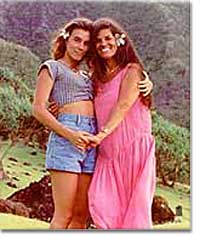 Courtney and Roberta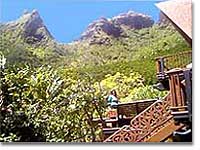 Home Sweet Home!
A glimpse of "Heaven on Earth".
The powerful energy of Limahuli Gardens. This is the stuff legends are made of…
Come tour with me to the many ancient locations our North Shore has to offer, such as the famed Limahuli behind me…..
Yep. Look again!
It's me and the Pres, among others, at his Honolulu Presidential Luau. Even Presidents can wear Leis and casually enjoy the excitement of a real authentic Hawaiian Luau.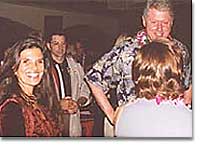 Mr. Pres. and Me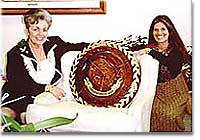 Mayor Maryanne Kusaka
Our Honorable former Mayor…
Maryanne Kusaka was off to Japan to our sister city with this gift of our county seal, carved by well known sculptor, Chris De Anda.
On the day our Governor, Ben Cayatano married…
residents traveled from all the islands to help celebrate his good fortune! Here I am with dear friend Teresa Tico, a colorful Kauai wind surfing attorney.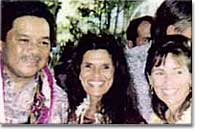 Former Goverrner Ben Cayetano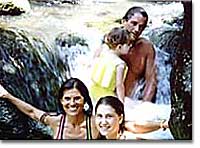 Robert Kennedy, Jr.
Frolicking in the pristine fresh, clear waterfall pond
with friends from near and far. Bobby Kennedy Jr. and family attended our SOS (Save Our Seas) conference, as a brilliant guest speaker and consequently fell hopelessly in love with Kauai. He said we were the luckiest inhabitants on planet earth…..so…….why not journey here yourselves and find out what awaits………
One of many secluded fresh water mountain pools
to delight the spirit and rejuvenate the soul. All this splendor awaits your arrival to our Paradise Island where dreams do come true………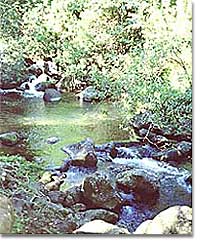 Limahuli Stream

Specializing in Rare Tropical Hide-A-Ways on the North Shore of Kauai Since 1977
HAWAII LIFE REAL ESTATE BROKERS
Princeville Center
Princeville, Kauai HI 96722
Mobile: 808.652.9777 •  Home Office: 808.826.7088 • Fax: 888.826.7764
PO Box 237 Hanalei, Hawaii 96714
Copyright © 2015 Roberta Haas – Realtor Broker. All rights reserved.